Full carbon wheel manufactured with HP-RTM process
An EU-funded consortium, coordinated by RI-BA Composites S.r.l. (a company of the Bucci-Industries Group based in Faenza (I)) and Fraunhofer ICT, will develop and commercialize a lightweight carbon automotive wheel, using an automated, high-volume production process.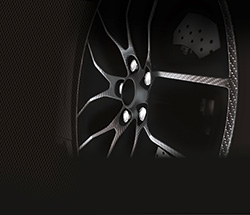 Car weight has increased continuously over the last few years, mainly due to improvements in comfort, driving aids and the more challenging passive safety requirements. Despite the development of more efficient engines, this weight increase has led to higher fuel consumption and consequently increased CO2 emissions, requiring intervention from the EC to set a path for emission reduction in the coming years.
Research into lightweight components, materials and the related processes, has therefore become one of the main challenges in the automotive industry, and has led to the substitution of standard steel and aluminium with alternative materials. CFRPs (carbon-fiber-reinforced plastics) show superior mechanical characteristics with respect to lightweight potential, and have been integrated into the structural bodywork of several innovative vehicles like the BMW i-series. Besides bodywork components, automotive wheels are an application in which CFRPs could contribute to weight reduction.
The European collaborative project "CARIM", launched in January 2016, aims for the final development, homologation and commercialization of a full carbon automotive wheel manufactured in an automated, high-volume production process. Developments in automated CFRP production technology will generate a wheel that is 30-50% lighter than state-of-the-art aluminium wheels, with the additional advantage of excellent mechanical performance. The manufacture of these wheels in an automated preforming and HP-RTM process will ensure short cycle times and lower costs that will enable scale-up to series production and make the CARIM wheels competitive against current casted/forged Al-wheels and other emerging plastic wheel concepts. A testing and validation phase for the demonstrators covers a comprehensive product homologation to meet TUV regulations and the requirements of OEMs and material suppliers.
Coordinated by the Fraunhofer Institute for Chemical Technology (ICT) in Germany and the company RI-BA Composites, three small and medium-sized enterprises and two research institutions will carry out all the necessary the developments and validation to enter the market with the new carbon wheel in 2018.
CARIM is funded by the European Community's Horizon 2020 research and innovation program, by the Fast Track to Innovation (FTI) measure (H2020-FTIPilot-2015-1), under grant agreement number 690915.
Key data
CARIM: H2020-FTIPilot-2015-1 – 690915

Budget: 2,44 million € (of which 1,93 million € funded by EU)

Duration: 01.01.2016 – 31.12.2017
Partners
Fraunhofer Institute for Chemical Technology (ICT)

RI-BA Composites Srl (I) – www.ribacomposites.it

TÜV SÜD Product Service GmbH

Alpex Technologies GmbH

Alma Mater Studiorum – Bologna University (I)